| | |
| --- | --- |
| | Villa G |
Sleeps up to 8 - (3 Double Bedrooms with extra beds)
Reservations are accepted on a daily basis for as long as you like.
Accommodation Type - Bed & Breakfast. Steps – NONE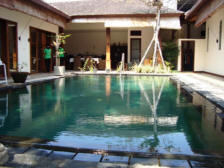 Location:
Villa G is situated in a group of 11 Villa's, just off the well known Danau Tamblingan St. in a serene and quiet location. Villa G has been built with the disabled in mind. IT HAS NO STEPS
Central Sanur: Just 5 mins walking distance to the beach through the famous Bonsai Café. Nearest City: Denpasar 10 mins by car.Kuta, Legian and Seminyak: Approx 30mins Ubud: 45 mins Airport: Ngurah Rai International 30 mins
Our Aim:
To provide quiet affordable holiday accommodation for the disabled guest whilst catering for the individual needs. As disabilities vary widely please advise us of any special requirements.
The large private swimming pool has been adapted to cater for special of needs guests. There is a large Pool Hoist suitable for guests with limited mobility and a hand rail is fitted for those who use the steps. It is easy to glide into the sparkling cool water. Special Towels are available for swimming. We have plenty of staff around to help. There are plenty of good quality restaurants and bars within easy distance.
Entrance:
The path from the car park and reception area is FLAT and wide.
Rooms:
There are 3 double guest rooms in the villa. All rooms are suitable for single or double occupancy, with Queen size beds. Extra beds can be arranged for a small fee per night. All rooms are large and have double sliding entrance doors which easily accept a wheelchair. Each room is fitted with wardrobe, Flat screen TV, Hairdryer and DVD Player. Tea and coffee is available at any time, just ask our staff. Bathrooms have double basins, roomy showers free standing stone bath and spacious toilet.
The bathrooms are very large open plan with his & hers basins. Two rooms have been adapted for the wheelchair guest and each have a shower & toilet that has COMPLETE entry for a wheelchair. In fact the shower entrance is 1.8 meters wide. There are very wide double doors, in all rooms and NO STEPS, accessible light switches and sockets. Dimensions can be supplied upon request. Both rooms have emergency bells. The Villa is staffed 24 hrs.
The third room is for guests who can stand for short periods, the able are also welcome. We can also arrange additional accommodation in the other Villa's for larger groups.
We also have a heavy duty Omega 300 Electric Hoist available for those who need it. Please advise on booking if you require it. You are advised to bring your own sling as ours may not be your size. There is an outside shower in true Balinese tradition, which gives the effect but not really suitable for people who cannot stand on their own. We do supply special shower chairs, Commodes & plastic chairs for showering if required.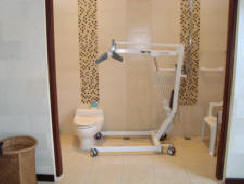 The living area large open plan with roomy comfortable furniture. Looking out over the pool and garden the easterly open front catches the cool morning sun while you leisurely eat your breakfast.
Breakfast
Breakfast is served between 7am & 10am and is an American or full English breakfast setting you up for the full day ahead.
Special meals and Dietary needs are available. Takeaway Meals can be brought in and the dining facilities used. There is cutlery & crockery available. There is also a large Fridge & gas Cooker/Oven.
Our friendly Staff will help you prepare and clean away after. Please tell us in advance if you need Halal food or need your food Puried or Vegitarian.
There is a disabled toilet in this area.
Outside The easterly facing garden and pool is a great place to relax and we have comfortable sun bed. Villa G has a very special atmosphere. There is something soothing & calming about the place, everybody feels it and they are perfectly at home. Of course again there are NO STEPS on the property, except in the staff quarters which are no go areas.
Special Requirements. Please let us know by e-mail a brief description of your individual Disability & Special requirements. We will do our best to accommodate your needs.

Rates & Terms.Prices are quoted on application and depend on the time of year and length of stay.30% deposit is required to confirm a reservation.
We make additional charge for extra bed per night.
Staff. All our lovely staff have been well trained in understanding the special needs of disabled guests and are more than willing to help. We have a qualified Physiotherapist on hand, as well as Massage facilities which can be carried out in the comfort of your own room. This must be arranged 24hrs in advance.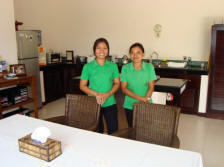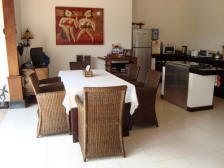 Medical Facilities. There are plenty of good Hospitals in the area with full repatriation facilities. We do strongly advise you arrange Medical and Repatriation Insurance in your home country for the full period before departure to Bali. We cannot be responsible for any medical or Hospital bills incurred.
Airport Transfers. Denpasar International Airport is 30 minutes away and we have Free Airport pick up and drop off for guests staying 7 nights or more by Bali Access Travel. Just give us your flight details and day of Arrival/Departure. Please let us know how many people you are, how much luggage you have especially wheelchairs and rollators etc.
Facilities:
Full WI-FI Internet. Password can be obtained from our staff on check in.
Flat Screen TV with Satellite TV
DVD / CD Player.
Laundry can be done at extra charge.
Small Bar Fridge in each room.
Hair dryer.
Full en-suite facilities with Wheelchair access and no steps. In 2 rooms.
Grab rails in all strategic positions.
Easy access to toilets & showers.
Electric Hoist.
Pool Hoist.
Private luxury pool & garden.
Conditions:
Villa G is very strictly non smoking indoors. However there are smoking designated areas outside. Ask for an Ashtray.