Kintamani Day Tour approx 8 hr

Bali Access Travel has put together an accessible day tour to Lake Batur & Kintamani volcano (still active!). After visiting Tegalalang Rice Terraces on the way there we take lunch in an accessible restaurant with panoramic views of Mount Kintamani. We take a leisurely drive back visiting Blantih village, a traditional coffee making area and Tampaksiring. If you would like to see something special – why not visit the Senang Hati Foundation and meet the local disabled community.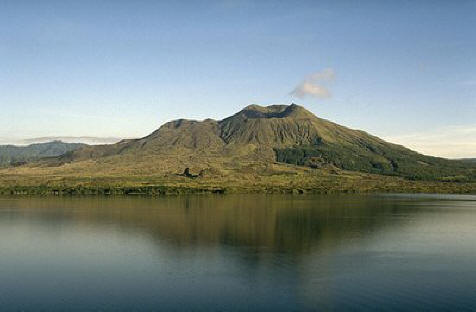 TEGALALANG RICE TERRACE
On our journey to Kintamani we stop to view some magnificent rice terraces. In this place, you will see the Balinese farmer working their rice fields as they have done for centuries, complete with their unique system of irrigation. You will enjoy the beautiful panorama of the valley with rice terraces and coconut trees ornamenting it. Tegalalang Rice Terraces is one of the tourist icons of the Ubud region and is visited by many tourists every day.

Lake & Mount Batur at Kintamani


The highlight of the tour will take you to witness the spectacular view of Lake Batur & volcano at Kintamani. The mountain area is most dramatically first seen when you arrive at Kintamani. What you are actually looking at is a vast caldera, 11 km (6 7/8 miles) across, the hollowed-out remains of a gigantic volcano that in prehistoric times exploded, blowing away its entire cone and leaving only the bony, saucer-shaped rim on which you're sitting having lunch. Mount Batur, whose broken crest rises 1,717 m (5,633 ft) above sea level, is central to the view. Their slopes are scarred with lava-flows and all around is a scene of lonely splendour and desolation. To your right lies Lake Batur, 492 m (160 ft) below you.

Kintamani/Batur is a village in northern Bali. The village, together with several others, sits on the rim of the huge Mount Batur caldera about 1,500m above sea level and provides dramatic views of Mount Batur volcano and Lake Batur.
The village of Batur was formerly sited in the Batur crater until a violent eruption of the volcano in 1917 and again in 1926. The village was relocated to the crater rim and the surviving shrine was placed in the new temple Pura Ulun Danu. This temple is of considerable importance and is one of Bali's nine directional temples. This cooler mountainous region of Bali is where growing fruit and vegetables is the main horticultural activity.

Holy Spring Temple at Tampaksiring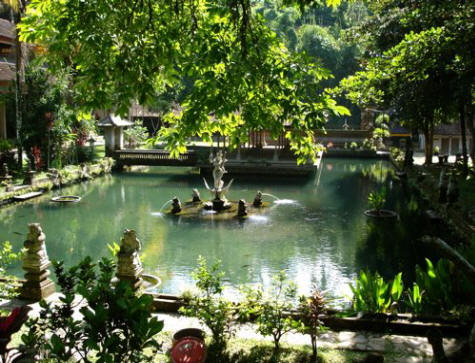 On our way back from visiting Kintamani and after seeing how traditional coffee is made in Blantih village we visit Tampaksiring. This is a village in central Bali. It is famous in Bali for its Holy Spring Temple and State Palace resort. The government still uses the Presidential Palace to welcome and entertain state visitors. The Holy Spring Temple is located right below the State Palace. The holy spring in the temple's inner courtyard is said to have magical curative powers. Nearby bathing pools have cool clear water pouring from mossy spouts. The Temple grounds were recently opened for tourists interested in bathing in the spring water.